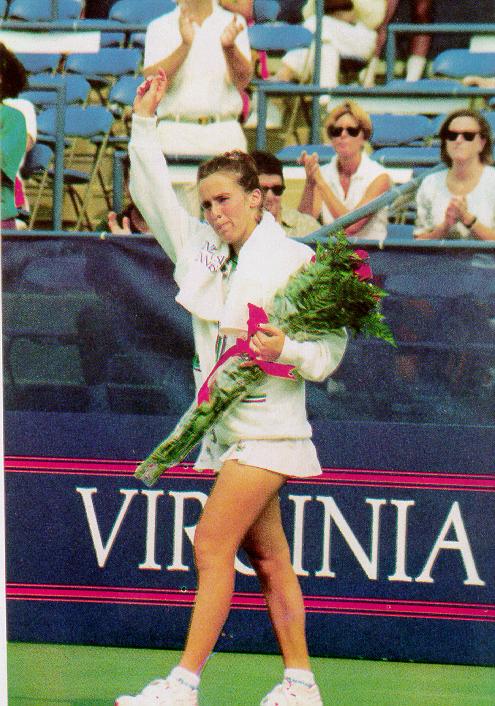 Being the little sister of Manuela Maleeva, nobody expected that Katerina Maleeva will become a top player. A good player probably, but not a top player. However, working hard she did what it was to be done to settle herself among the stars of female tennis.
Katerina admits that for it was in a way harder, in a way easier to become a tennis player. Hard by the means of being the sister of a top tennis player and to work twice as hard to receive the needed acknowledgement. Easier by the means of not needing to go through unknown paths in the tennis world. And her spirit and way of play had made many a journalists to use such words as "heroine" in order to describe her performance.
Except for being an excellent tour player, Katerina had always been a very important part of the Bulgarian Olympic and especially of the FED CUP team. As a part of a family Fed Cup, it was said (and did prove true) that Bulgaria will reach as far as Katerina is playing well. Katerina is also famous for beating Navratilova and Sanches Vikario in a row at the San Diego tournament. Her wins include almost every of the elite of the tennis of her time.
Katerina had won 11 single titles, reached several quarterfinals of the Grand slam tournaments and was part of the tennis elite for almost the whole period of her tennis activity. She had won the 1994 US Open Juniors, was Bulgarian National Champion, European Champion. As a doubles player, Katerina was as great -> her greates success is the finals of the 1994 Us Open (with R. White)
Presently she is living with her husband and her two (? or still one) daughters in Sofia, Bulgaria.
Did you know? :
Katerina Maleeva won a great match vs M. Tu at the 1995 Indian Wells. She was given a wild card, was a 5-0 down and two points away from defeat, when she recovered to win the set and thus the match.