Manuela Maleeva
Manuela Maleeva is the most successful Bulgarian Tennis Player. The Australian newspaper"Herald sun" defines her as:"A good tennis player!Something more even- one of the best! Well-bred, polite, ready to fight- splendid example for every aussie to copy from"
Manuela Maleeva was born on the 14th of Feb in Sofia, Bulgaria in the family of George Maleeva and Julia Berberyan. Her name Manuela is after her grandfather's Manuk. Manuela Maleeva's parents are sportspeople and that's why in their family living was in a healthy way. That included practise of some sport- tennis in the summer and the winter and some skiing in the winter. That is how everything began. >> the full story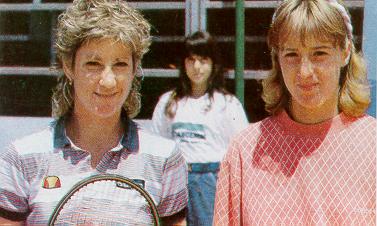 Did you know? Manuela Maleeva is the first tennis player in history to win three matches in one day. At the Italian Open 1984, she defeated the Roland Garos'78 Champion Virginie Ruzici (Rom), after that the Canadian star Carling Basset in straight sets and finally Chris Evert in the final 6-3 6-3. With the win over Evert, she became the only seventh player in the world to beat Evert on clay. The above photo is from this tournament.