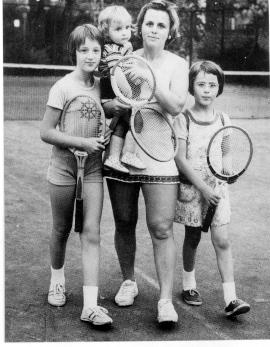 Father George Maleev is currently working as a lecturer in the Technical University in Sofia, Bulgaria. Though he had written some books and teaches, he is widely known as a basketball player. George Maleev is known as a calm and good person. He says that the happiest years of his life were when he was taking care of his daughters
Mother Julia Berberyan is currently a deputy in the Bulgarian Parliament. She also has a private tennis school "Maleevas". Julia Berberyan is known as a strenious and zelous person, who is ready to do everything to reach her dreams and aims.
The mother and the father of Julia met in the train and in the end of 1941 they married. Some years later Julia was born. In wrong time though, for the communists took the power in Bulgaria. Due to the status of Julia's family ( they were considered Armenians) in 1964 they were given a permition to leave Bulgaria and go to the USA
In 1965 the family left Bulgaria and on their way to the USA, they had to spend half a year in Livan waiting for visas. There Julia played in the Livan Open and won it. Finally they got to the USA, where Julia started work as a bank officer - to earn money for a back ticket to get back in Bulgaria, where her boyfriend George Maleev was waiting for her.
George and Julia had great difficulties marring. Julia didn't have any documents and they had to marry with Julia's student's book. Three months later Manuela Maleeva was born.